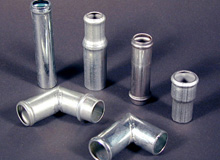 Deerfield Machine Parts offers tube flaring and end forming services specially geared for small diameter automotive tubing applications. We specialize in mild steel, seamless hydraulic, aluminum, and stainless steel round tubing up to 1-5/16" in diameter, typically used in hydraulic or any other kind of fluid carrying lines.
Flaring is a cold forming operation that forms the end of a tube in order to make a fluid tight seal, and we can provide many different types of flares including double flares and bubble flares. End forming processes include swaging, which reduces or expands the diameter of pipe end as a means of connecting it to another length of tubing, as well as beading, which increases the strength of the tubing and is commonly used for products that require a slip-on hose connection. Our specialized equipment enables us to achieve extremely close tolerances for a perfect fit every time.
We also offer a diverse range of additional services, including tube bending, plating, polishing, brazing, and miter cutting to meet the requirements of a wide variety of applications. In business for more than 30 years, we have in-depth knowledge of the automotive industry and are highly experienced meeting its specific demands. We offer rapid turnarounds, on-time deliveries, and very competitive pricing. Contact us today to learn more.