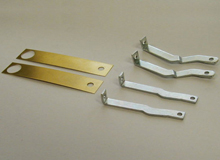 Deerfield Machine Parts precision metal stamping services are supported by more than 30 years of industry experience producing tight tolerance heavy gauge and thin walled metal parts. Send us your print, and we will find the best solution for your unique project.
Delivering 50 tons of force, our presses are capable of punch, progressive die, and compound die stamping a diverse range of products, including washers, cups, rings, brackets, and mounts. We are also capable of deep draw stamping as a cost effective alternative to machining. Not only does it reduce material waste, it also improves the metal structure to produce stronger finished parts. We have the capacity to stamp parts with diameters as small as 0.125" or as large as 10" from .004" to .25" thick steel, aluminum, copper, or brass with zinc plated or galvanized finishes.
Put our expertise to work for you. We manufacture premium quality stamped parts with great economy and speed. Able to accommodate both small and large volume orders, we offer personalized customer service to ensure your every need is met. Contact us today to learn how our precision metal stamping services can provide you with a high quality, low cost "Made in America" solution.