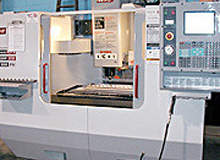 Deerfield Machine Parts is a full-service contract manufacturer offering a diverse range of services to simplify and enhance your part procurement and inventory management programs. With our reputation for on-time delivery and superior quality standards, we have created synergistic partnerships with many customers in the automotive, agricultural, and government markets. We accept blanket sales orders with multiple release dates for both high and low volume production quantities, and are capable of producing parts as varied as hardware, adapters, and tubing, to pump parts, brake parts, and cooling system parts.
Our list of capabilities is extensive, and our CAD/CAM and automation capabilities enable fast turnarounds and competitive pricing. Inside our large, modern facility, we have a diverse array of advanced technology cutting, machining, grinding, stamping, and tube forming equipment, welding and brazing stations, as well as deburring and finishing machinery. We specialize in manufacturing both metal and plastic components, and our quality assurance program ensures the integrity of each part we manufacture.
We are flexible, reliable, and highly attentive to customer requirements. When you choose us as your contract manufacturer, you are guaranteed consistent, high quality results, from first part to the last, one order to the next. Our location in Southern N.J provides easy access for doing business with our shippers and suppliers, and we have a spotless on time delivery record. Contact us today to learn how we can be of service to you.