CNC Machined Hardened Steel Pivot Pin for the Automotive Industry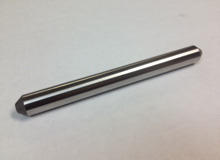 (Click image to enlarge)
Deerfield Machine, a specialist in the manufacture of precision machine parts, was asked by one of their many customers in the automotive industry to manufacture steel pivot pins for an air pump. Deerfield Machine's expertise ranges from CNC custom machining, milling, and turning, through contract manufacturing, so they were more than up to the task. Deerfield Machine's staff is skilled in the CNC turning of cylindrical components to tight tolerances. Their operators were able to consistently deliver these 8620 steel pivot pins in optimum cycle times on Deerfield's CNC turning center. Outside diameter grinding to an exacting dimension of 0.3753" was then accomplished on the company's centerless grinder. The pivot pins were heat treated, case hardening them to 59-63 Rc and enabling them to withstand the types of rugged conditions encountered in this automotive application. Tight tolerances of ±0.0002" were realized throughout the manufacturing process, and the surface finish was held to between three to five microns.
Personalized customer service, complete alignment with customer specifications, and rigorous quality control once again led to a satisfied Deerfield Machine customer. Contact them today to learn more about their precision manufacturing services.

CNC Machined Hardened Steel Pivot Pin Project Highlights
Product Description

CNC Machined Hardened Steel Pivot Pin for an Automotive Air Pump
Capabilities Applied/Processes

Primary:
CNC Turning
O.D Grinding

Secondary:
Heat Treating – Case Hardening to 59-63 Rc
Equipment Used to Manufacture Part

CNC Turning Center
Centerless Grinder
Overall Part Dimensions

Outside Diameter: 0.3753"
Tightest Tolerances

± 0.0002"
Material Used

8620 Steel
Material Finish

Surface Finish held to 3 – 5 microns